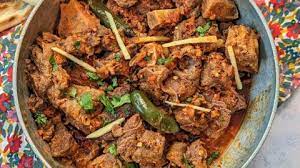 Serves: 0 People
Prep Time:
Cooking:
Calories: 0
Difficulty: easy
Print
This dish is a flavorful and creamy Pakistani cuisine.
Ingredients
Directions
Heat oil or ghee in a karahi or a large, deep skillet over medium heat.
Add cumin seeds to the hot oil and let them splutter for a few seconds.
Add the finely sliced onions and sauté until they turn golden brown.
Stir in the ginger-garlic paste and cook for another minute until the raw smell disappears.
Add the boneless chicken pieces to the pan, and cook them until they are lightly browned on all sides.
Now, add the coriander powder, turmeric powder, red chili powder, and salt. Mix well so that the spices coat the chicken evenly.
Reduce the heat to low, and add the whisked yogurt to the chicken. Stir continuously to avoid curdling of the yogurt.
Cook the chicken in yogurt for about 5-7 minutes until the yogurt is well incorporated and the chicken is tender.
Pour in the heavy cream (or evaporated milk) and mix it with the chicken. Let it cook for an additional 5 minutes, allowing the flavors to meld together.
Add the garam masala and green chilies to the karahi, stirring well.
Taste the karahi and adjust the salt and spice levels according to your preference.
Once the chicken is cooked through, and the curry has thickened to your desired consistency, turn off the heat.
Garnish the Boneless Chicken White Karahi with chopped fresh coriander leaves.
Serve hot with naan, roti, or steamed rice.
You may also like